Society of St. Vincent de Paul - St. Simon Stock Conference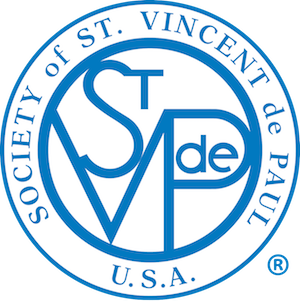 The St. Vincent de Paul Society of Berlin, NJ is concerned with alleviating need and redressing the situations that cause it. All individuals in need are served regardless of creed, opinion, color, origin, ethnic background or gender. With your help, the St. Vincent de Paul Society attempts to address the many needs of the poor. Among the many services offered by St. Vincent dePaul are a food bank, clothing assistance, home visits, referrals, Thanksgiving and Christmas food baskets for the needy.
However, none of this is possible without your ongoing support. The society achieves its goals only with your help whether in the form of donated food and clothing, monetary contributions or simply, your time. We also accept memorial donations in the name of a loved one. Whenever you give of yourself, you become a part of this mission to serve those less fortunate.
The St. Vincent de Paul Society Thrift Store located at 157 West White Horse Pike in Berlin, NJ serves two purposes: It not only is a source of support to the society's mission, but it also provides quality clothing and other goods to the community at more reasonable prices. If you would like to help the St. Vincent de Paul Society help others, please call us at the Thrift Shop for further information.
Store Information
Address

157 West White Horse Pike - Berlin, NJ, 08009
Located at the intersection of West White Horse Pike and S. Brill Ave., two blocks from church.
Phone

(856) 767-7391
Fax

(856) 767-4688
Thrift Store Hours

Tues, Wed, & Thurs 10:00am - 3:00pm
Sat 10:00am - 1:00pm
Pantry Ministry Hours

Tues, Wed, & Thurs 11:00am - 3:00pm
Service Area

Berlin Borough, Berlin Township (West Berlin), Albion, Pine Hill and Clementon
Clothing & Small Household Drop-Off Hours

Tues, Wed, & Thurs 11:00am - 3:00pm
Sat 10:00am - 1:00pm
If you would like to volunteer in the Thrift Store or volunteer in the Ministry assisting with the food bank and monetary aid to the needy (just 2 hours or more each week) please call (856) 767-7391. The phone is only answered during ministry hours Tuesday, Wednesday and Thursdays between 11am-3pm. Ask any volunteer to take down your name and contact information.
"Remember, when you change the life of another, your life will also be changed."
Conference Officers
Vice President

Bob Bodine
Recording Secretary

George Ralston
Corresponding Secretary

Mary Mazakas
About the St. Vincent de Paul Society
In 1833 a 21-year-old college student, Frederic Ozanam, was inspired to confront the poverty of his contemporary society in Paris, France. It was while he was at law school at the University of Paris that Frederic's faith was tested. While debating with rationalists, who were materialistic and anti-Christian, about the validity of the Church's claim to be the true Church founded by Christ, one of the debaters asked what his church was doing for the poor of Paris? Show them the charitable works of the Church, they said, and they would believe. These questions caused Frederic and his friends to devote their lives to works of charity. Their movement became the St. Vincent de Paul Society dedicated to relieving suffering through person-to-person contact.
This example of helping needy families spread at first in Paris, then to the French Provinces, then Italy, Belgium, Scotland, Ireland, England, Germany, the Netherlands, Greece, Turkey, Switzerland, Austria, Spain, the United States, Mexico, Canada…
Additional Resources
NJ211
Dial 2-1-1 or go online to NJ211

VITALITY Catholic Health Care Services
Dental: 1-888-268-4825
Medical: 856-583-6123

Camden County Constituency Services
1-866-226-3362

Camden Coalition
camdenhealth.auntbertha.com