Charitable Giving at St. Simon Stock (St. Edward & Our Lady of Mt. Carmel)

St. Simon Stock Parish has enlisted Parish Giving to provide its members with the opportunity to use Electronic Funds Transfer as an alternative method for giving. The Program is free of charge for parishioners.
Parish Giving allows participants to donate a recurring contribution that is automatically transferred from your checking or savings account, or even credit card, on a monthly basis, and you select your own billing date. This Program can be utilized for your Sunday contributions, as well as any Holy Day Collection and all Archdiocesan collections.
The use of EFT is not only time saving and convenient for you, but also allows our Parish to realize a more consistent level of support. By signing up for Parish Giving, you will know that you are doing your part to support the Parish even at times you are not able to physically present to celebrate with the Parish Community.
Click Set up Parish Giving below to register for the program.
Set up Parish Giving or Special Donation
---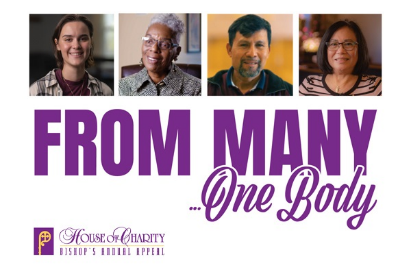 2022 APPEAL: "From many… One Body"
In the first letter to the Corinthians, Saint Paul reminds us "as a body is one though it has many parts, and all the parts of the body, though many, are one body, so also Christ" and by extension so also his Church.
The theme of this year's campaign, "From many…One Body," reminds us that we share a common mission. Your individual gift to this Appeal will become one of many that unites and builds up the one Body of Christ. Through our various ministries across the diocese your gift is shared and brings comfort, relief, encouragement and support to many.
In preparation, you should receive a mailing from Bishop Sullivan that will include the 2022 House of Charity – Bishop's Annual Appeal materials. I ask that you please consider making a donation of any size to this year's campaign. It is important that we come together to support our ministries. They need the resources necessary to continue serving those in need.
By supporting the House of Charity – Bishop's Annual Appeal, you are supporting those who comprise the programs and ministries of the Diocese of Camden. These ministries serve the physical, emotional and spiritual needs of the hungry and challenged. When we support the House of Charity, we can bring the light of hope to those in the Catholic community of South Jersey.
Please prayerfully consider joining us once again.
You can learn more about the House of Charity at https://www.camdendiocese.org/hoc/.
You can click here to download the 2022 House of Charity flier.
---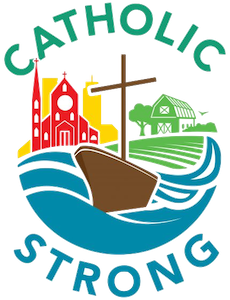 Catholic Strong is a campaign that owes much of its theme to Pope Francis' call on all of us to become Missionary Disciples. This concept he first broached in his 2013 Apostolic Exhortation, Evangelii Gaudium (The Joy of the Gospel).
"The Joy of the Gospel fills the hearts and lives of all who encounter Jesus. Those who accept His offer of salvation are set free from sin, sorrow, inner emptiness and loneliness. With Christ joy is constantly born anew. In this Exhortation I wish to encourage the Christian faithful to embark upon a new chapter of evangelization marked by this joy, while pointing out new paths for the Church's journey in years to come."
From there he tasked us to do more, to welcome more, to embrace more by becoming missionary disciples. "I dream of a 'missionary option,' that is, a missionary impulse capable of transforming everything, so that the Church's customs, ways of doing things, times and schedules, language and structures can be suitably channeled for the evangelization of today's world rather than for her self-preservation."
The Catholic Strong campaign, has at its core an emphasis on evangelization, to bring back those Catholics who have fallen away and to inspire non-Catholics to join us in a faith that is enthusiastic and joyful. Through your support, we will create in both our parishes and the diocese new programs and initiatives to evangelize to all who wish to find a home in our South Jersey Catholic community.
St. Simon Stock's projects for the Catholic Strong program include:
Renovating our Parish Life Center
Maintenance and improvements to rectory, church and school building
Debt relief
As of the Fall 2019, there are 255 donors (families) with a total pledge of $832,485.22. Our Church's target goal is to raise a minimum of $915,000, of which we will receive 70% (or a minimum of $640,500), that will go toward our parish needs like the renovation of the Parish Life Center. Additionally, we will receive 80% of all funds raised over our parish target. Our parish has a total of 1,975 families registered. Only about 13% of our registered families pledged for the Catholic Strong. We still need your support. It is not too late to make a taxdeductible donation. All donations received on or before December 31, 2019 will be applied to your tax-deductible statement.
You can learn more about the Catholic Strong at https://www.camdendiocese.org/catholicstrong/.
---
Year-End Charitable Giving by Qualified Charitable Distribution
You can lower your taxable income with a Qualified Charitable Distribution (QCD). If you are age 70 ½ or older, you must take required minimum distributions (RMDs) each year from your tax-deferred retirement accounts. The distributions can increase your income and move you into a higher tax bracket or make you ineligible for some tax credits or deductions. A QCD can reduce your income and help you to have a lower tax bill. Up to $100,000 per IRA owner can be donated per year to reduce your tax liability. Please consult a tax advisor to learn about making a QCD.